SALZBURG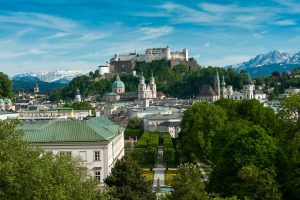 There are so many drawcards to visiting Salzburg, we don't even know where to start. Salzburg is made up of picture postcard streets, and epitomises that sweet, church-steepled and button-nosed building Austrian town set in a dramatic mountainous landscape that many people imagine when thinking of visiting Austria. This image of Austria can largely be owed to the international blockbuster film, Sound of Music, which was actually filmed in, and around, Salzburg. This storybook town, nestled below steep hills bearing a fortress, inspires a lot of affection from those who visit its cobblestone and narrow streets.
With its former resident, Mozart (who was born in Salzburg), as its poster boy, Salzburg is not only pretty, it's historically rich, and hosts a fascinating raft of sites to see. With the wealth of things to do here, its not a bad idea to consider taking a tour so you can fully take this special city in.
Vienna a la carte is known well for the custom-made tours it organises for visitors to Salzburg. Ask us for more info about our Salzburg tours, here.
Travel time and getting there:
While Salzburg is about a 3 hour drive from Vienna, it's manageable as an exciting day trip. Trains leave regularly from Vienna's 'Hauptbahnhof' and 'Westbahnhof' station to Salzburg.
WACHAU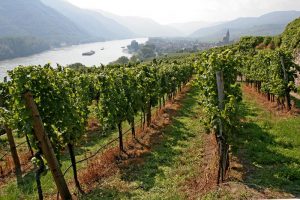 A short hour-long train ride away from Vienna lies the gorgeous rolling hill scenery and gourmet experience of the Wachau valley. Think of a valley lined with vineyard-covered hills, little historic towns, medieval castles where you can sip at stellar wine while looking out onto the mighty Danube river – that's the Wachau.
Bookmarked by the charming towns of Melk and Krems, this segment of the Danube is well worth a visit. History buffs will be overwhelmed by the number of castles hanging picturesquely off of clifftops above the valley and the grand Baroque presence of the 11th century Melk Abbey , while wine aficionados will never want to leave after experiencing one of the Heurige (translation: wine taverns) that can be found serving up delicious wine at cellar door prices and Austrian fare in the small, cute towns that spot the valley.  Oh, and be sure to get yourself up high on a hill at some point to catch a bird's-eye view of the valley – it'll be spectacular from wherever you manage to do it.
Travel time and getting there:
Regular trains travel to Melk and Krems (with also stops in the smaller towns in between) from Vienna's Franz Josefs-Bahnhof. Those who like to earn their wine stops can catch a train to Melk and bike their way along the valley. However, the Wachau is best experienced by car, as there are many must-see stops to be made throughout the valley.
With Vienna a la carte, you can make the most out of your Wachau experience with experts who know their way around and can pack all the highlights into one day for you. Ask us for more info about our tours, here.
MAUTHAUSEN MEMORIAL
Any trip to Austria is incomplete without visiting a site that reveals something about the war which left its mark on the country's history, and partly defines its national character today. There is no place better to learn about the tragic human stories that played out in Austria during WW2, than Mauthausen.
What was once a concentration camp has been preserved and set up today as a memorial to remember the over 90,000 victims who were murdered there during the Holocaust by the Nazi regime throughout the years of 1938 to 1945.
Mauthausen is a poignant and moving experience, and an essential one if you're interested in understanding the extent of the horror that played out during this time in human history.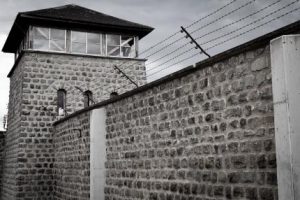 Travel time and getting there:
trains leave regularly to the town of Mauthausen, however it is a 4km trip (by bus or taxi) to the Mauthausen memorial from the station.
Vienna a la carte operates intimate tours that will give you a comprehensive insight into this thought-provoking and powerful place, and see you picked up and dropped off at your hotel's door.