While Vienna is a big city with a whole lot to offer, it's surprising how much history and architecture is concentrated in the old city center.
Made up of narrow cobbled stone streets, the first District is perfect to explore on foot. There is something worth your while around every corner.  We've put together a short self-guided tour
Step 1
Start your tour amidst a royal atmosphere, by walking by the former imperial palace of the Habsburg dynasty, the Hofburg, which today serves as the office of the Austrian President. On sunny days, you can take in the surrounding areas of the generous green space in front of the Hofburg, called Heldenplatz (Hero's Square). From here, you can spot the Parliament building, the spiky spires of the Town Hall (Rathaus) and the manicured flower alleys of the Volksgarten, famous for their variety of rare roses.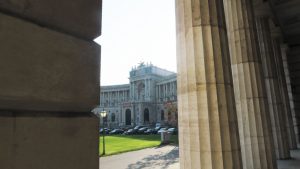 Step 2
Continue walking your way through the Hofburg by leaving the palace behind you to your right, until you come out to the other side of a charming dome roofed tunnel to a busy square known as Michaelerplatz. You have walked by a beautifully arched passage, which houses the apartments of the famous Empress Sissi (which you can also visit if you fancy). Once you walk out of the tunnel at Michaelerplatz, turn around to see the façade that is covered in statues of mythological inspiration.
Take a selfie with a horse as Michaelerplatz is one of the main parking areas for the famous Fiaker, the horse & carriages so typical to this city. If you scan the square, you will see one building that truly stands out –the Looshaus (Michaelerplatz 3), a great example of Secession architecture designed by one of Vienna's favourite architects, Adolf Loos. As Loos was ahead of his time, this building sparked quite a bit of controversy during its construction.
Step 3
Walk on, with the Looshaus on your left and stroll onto the beautiful pedestrian street lined with boutiques, Kohlmarkt. This is where Vienna's fancy face shows, with all the designer stores you can dream of located in this area.
And what's that? It's time for cake?! Pop into the elegant looking coffeehouse and Konditorei (pastry shop) Demel, which has been around since 1888. They don't only serve spectacular cakes & strudels, but they also have a show kitchen, where you can witness some of the country's best pastry masters at work!
Step 4
The walk on Kohlmarkt will inevitably bring you to the large, majestic pedestrian boulevard known as the Graben, which is filled with cafes spilling out onto it (even in winter) and more fancy stores and impressive building facades to admire. In the middle of this all, you will stumble upon the famous 'Plague Column' or 'Trinity Column,' a baroque sculptural masterpiece erected after the Great Plague epidemic in 1679. You'll know it when you see it – it's super gold!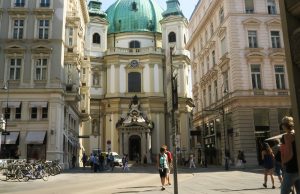 Step 5
Just as you pass the column, you'll notice the city's most famous landmark: the Stephansdom, or St.Stephen Cathedral. This is Vienna's most important church, historically speaking, that has witnessed many momentous events of the Habsburg dynasty. It really stands out with its colourful rooftop mosaic, making it an unmistakable symbol of the city. Beware of selfie sticks poking out everywhere here, as it is like a tourist moshpit anytime of the day.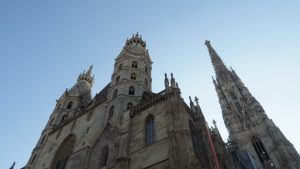 Step 6
If all this walking has made you hungry, look no further, Vienna's biggest, crispiest and most satisfying, larger-than-your-plate Schnitzel is just behind the Stephansdom. Look for the narrow, arched passageway behind the church and then walk on through it until you see a sign above another archway reading, Figlmüller. There is usually a line to get in this heaven for Schnitzel lovers, but it moves quick and the wait is well worth it. Even though it is one of the main tourist attractions in town, many locals will admit that this tavern, with a tradition that goes back many generations, is one of the best places to enjoy the famous, golden Schnitzel while in Vienna. Order it typically with a potato salad (Erdäpfelsalat) and a local white wine, or Spritzer.
Step 7
You will feel like a walk after that large meal you just devoured, so we suggest you take a walk around the area aimlessly to discover some hidden inner courtyards, or more narrow streets in this beautiful corner of Vienna. Aim for the narrow Blutgasse (Blood alley) – a picturesque street that is supposed to be one of the oldest in Vienna. The houses and courtyards here date back to medieval times.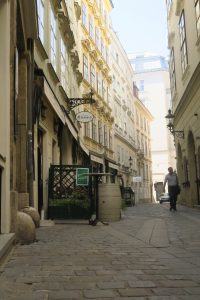 Step 8
Whenever you're ready to step back onto the large, prestigious boulevards of the district, find your way onto Kärntner Straße. If you planned any shopping while visiting Vienna, this might be your chance to do it.  Kärntner Straße houses the most famous brand stores, as well as some local Austrian boutiques. The street will lead you all the way to the famous State Opera house.
Step 9
At the end of Kärntner Straße is Austria's – and one of the world's – most famous music halls: the State Opera House. This beautiful building makes Vienna one of the main global attractions for classical music enthusiasts. While the building itself is already a marvel, a show at night is surely an unforgettable experience. Here you will need to spend quite a bit of money to get the good seats, but you can also get cheap standing tickets a few hours before the beginning of every performance.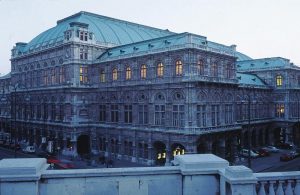 Step 10
Do a walk around the Opera House as to admire all of its impressive facades, and then head to the nearby Albertina museum. You should definitely check what current exhibitions are on at this impressive museum which was once a former palace. It now is known to house works by the world's most famous artists, and there is always something to discover. Plus, fans of Albrecht Dürer will find an important collection of the artist's work in the Albertina's permanent collection.
Step 11
Ok, now it's time for another cultural immersion: a visit to the Viennese Würstelstand (sausage stand) just outside the Albertina. Considered by many locals as the sausage stand serving up the best sausages in the city, Bitzinger makes for a great pit-stop for some tasty Austrian sausage, and a street-side beer (it's what the locals do). The typical Viennese sausage is the Käsekrainer (cheese filled pork sausage), however the Bitzinger stand prides itself on their version of the Bosna – a spicy sausage served with onion and sauce.
You've done quite some walking and seen a great deal of Vienna's city center highlights. But seeing as you're close to the famous Ring boulevard, if you've got the energy for more, you should rent a bike, or jump on one of the trams to do a loop of the 1. District and discover more of the historical buildings that surround it. If the day is nice enough, you can also just have a bit of lazy time in the Burggarten, the pretty park behind the Albertina Museum.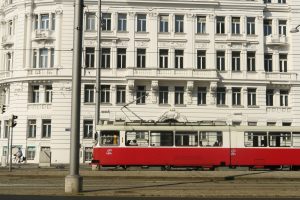 **INFO BOX**
While you'll catch plenty of the old city center's highlights on this self-guided tour, this is just a taste! To find the hidden spots and learn more about this fascinating spot in the world, contact us about booking a tailor-made tour!