Thousands of visitors flood Vienna each year to be part of the special Christmas that is the markets that transformed the city from the middle of November right up until Christmas. We've made a list below of the Christmas markets that the locals love, away from the overpriced and overcrowded touristy ones. Here are 5 very special Christmas markets in Vienna:
Weihnachtsmarkt am Spittelberg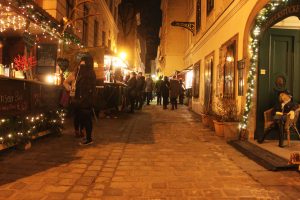 Where: Spittelberggasse / Schrankgasse / Gutenberggasse, 1070
Open Nov. 14 – Dec. 23, 2019
MON–THU: 2pm–9pm
FRI: 2pm–9:30pm
SAT: 10am–9:30pm
SUN & public holidays: 10am–9:00pm
Hidden away on the small cobblestoned streets of the 7th district, this Christmas Market often gets missed by the tourist crowds. The market has a strong focus on artisanal, hand-made products, where young artists as well as local craftsmen proudly exhibit their artisan wares. In between, fresh chestnuts are being roasted and mulled wine is being poured in hand-warming mugs. Wander the streets of the charming area, Spittelberg. Besides some really garlicky potato patties (Kartoffelpuffer), which are favourites amongst the locals, you might also find some culinary surprises, from local Austrian charcuterie to handmade Italian pasta, or Turkish pastries. While the small streets of this area do get crowded on most evenings in December, there is always a warm, cosy atmosphere surrounding this romantic looking market. It's surely a Viennese favourite!
Adventmarkt am Karlsplatz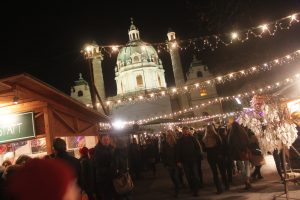 Where: Resselpark am Karlsplatz, 1010
Open Nov. 22 – Dec. 23, 2019
Daily: 12pm–8pm
Also called the "Art Advent Markt" this is one of the most spacious and surprising markets of all in Vienna. It is definitely a family favourite during the day, where parents bring their kids to tire them out on the carousels, or on the hay stacks that fill the iconic Karlsplatz pond that is drained for the winter months. There is a small petting zoo in the middle, where kids can see sheep, goats and even llamas at certain times of the day. As for the culinary offerings – local farmers and food producers serve at the stands their organic Punsch and a variety of snacks. Hut-like market stands cook up some hearty Austrian dishes making you feel like you've landed in the Alps for a moment.
But the Adventmarkt at Karlsplatz is not just food and fun. Some very talented craftsmen come here and sell products of the old crafts: from handmade beeswax candles to beautifully carved wood creations, knitted fashion, or organic plant-based soaps. Lovers of DIY products can finish their Christmas shopping here between a couple of glasses of organic Punsch.
Winter im MQ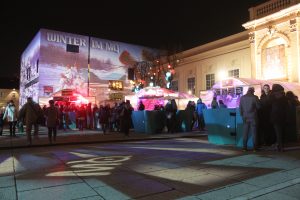 Where: Museumsplatz 1, 1070
Open Nov. 7 – Dec. 23, 2019
MON–FRI: 4pm–11pm
SAT, SUN & public holidays: 1pm–11pm
The young crowds love this late-night Christmas Market set up in the artsy courtyard of the Museumsquartier. Not only is it the only winter market open until late at night, it's also the most un-traditional Christmas Market of them all. The vibe is a bit younger here. The Punsch stands have a futuristic, cubical architectural design, there is a DJ playing in the middle of it all most nights and artistic light shows are projected on surrounding buildings. It  makes for a very Instagram-friendly market. The drinks are always a bit more out-of-the-box, with almost cocktail-like punsch creations being served. While this one is made for funky beats and drinking and less for eating and shopping, there will always be some chestnuts, potato patties and sweets to go with your drink and stomping feet. Oh, and did we mention they've added a design market to the mix this year?
Weihnachtsdorf Schloss Belvedere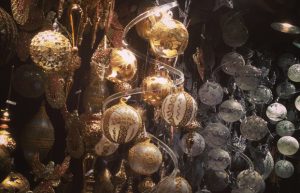 Where: in the gardens of Schloss Belvedere, Prinz-Eugen-Straße 27, 1030
Open Nov. 22 – Dec. 26, 2019
SUN–THU: 11am–9pm
FRI–SAT: 10am–10pm
Dec. 24: 11am–4pm
Dec. 25 & 26: 11am–7pm
'Schloss Belvedere' is the other famous castle in Vienna, other than Schonbrunn. The Christmas market here is somewhat less busy than the one at Schonbrunn, and it has a similar spectacular setting. It is still aimed at tourists with decorations that are borderline kitsch, but that will also leave you stunned by a somewhat fairy-tale setting. Come after dark, take a walk through the gardens to let the views sink in, and then warm-up with an extra rum-my Punsch (yes, you can ask for extra shots of rum almost anywhere) and a hearty Austrian dish – the ideal combo for cold winter nights.
Adventgenussmarkt bei der Oper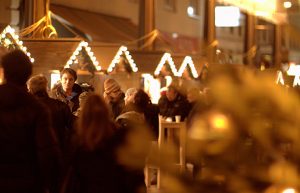 Where: Mahlerstraße, 1010
Open Nov. 15 – Dec. 31, 2019
Daily: 11am–9pm
closed on Dec. 24
open on Dec. 31 until 12am
Foodies and gourmet lovers, head this way to the Adventgenussmarkt which is hidden away down a street near the State Opera. This carefully curated market is where you'll find only small-time local food artisans selling their products. There is plenty of tastings to be done, from sausages and hams to all types of cheese, from homemade jams to spices and sauces´. You can fill up your pantry with all kinds of unique, high quality gourmet products to impress your guests at your Christmas dinner party. Next to the good old Glühwein (mulled wine), you can also go for a more authentic Punsch made from black tea, rum and spices, or for a classier glass of Austrian wine.  This market is also a good tip for rainy, or snowy nights, as it's completely under cover!
**INFO BOX**
If you'd like to have a very special and authentic experience of the famous Christmas markets in Vienna, and experience the food and drink of them like a local, we at Vienna a la carte can organise a tailor-made 'Christmas market' tour for you. Learn more about what these tours offer, here.