It would be easy to get lost in the wonders to be found in Vienna, so to make sure you see the best of Vienna's sights, we've created the ultimate must-see bucket list for you. We also recommend the best times to visit these sights, so you can enjoy them to the max.
Hofburg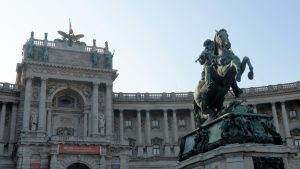 Where: Michaelerplatz, 1010
The half moon Hofburg speaks of the grandeur of the time it was built. This magnificent imperial palace is best taken in from Heldenplatz (the heroes square) from which you'll find yourself trying to capture the perfect shot of this beautiful piece of architecture.
While you're in front of it, imagine standing on the balcony on which the likes of the Habsburgs and Hitlers of history stood, speaking to crowds of hundreds that were gathered exactly where you're standing.
From 1438 to 1806, the Hofburg was the HQ for the Habsburg kings and emperors of the Holy Roman Empire, and then was the seat of the Emperors of Austria until 1918. Since then, the palace has kept its role as the seat of the head of state and is today used by the Austrian Federal President.
Best time to visit… during early morning, you'll be able to admire this wedding cake looking beast of a building minus the tourist crowds. Otherwise, anytime of day is a good time to admire the Hofburg. Keep in mind though that late afternoon is better for pictures when the sun isn't poking its head up behind the palace, obscuring your perfect photo.
Wiener Staatsoper (Vienna state opera)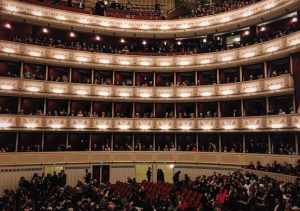 Where: Opernring 2, 1010
Opera may seem like an antiquated form of entertainment, and we're not denying that. But there's also no denying the goosebumps you'll get when one of the seemingly-constantly-suffering singers on stage let their voices fly in true opera fashion. A visit to Vienna's grand opera house is like stepping into another time. No matter what you think of opera, it's a quintessential experience to be had when visiting Vienna.
Best time to visit… If you don't mind standing during the performance, you can queue at the side entrance a couple of hours before the show for the standing tickets, which won't cost you more than 5€. Otherwise, there are performances every night of the week.
A quick tip…While it may seem like a scam to buy tickets from the guys dressed up in costumes out front, they're actually selling them for the same price as you'll find inside. Be sure to book ahead if it is a popular classic production.
Stephansdom (St. Stephan's cathedral)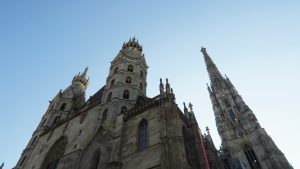 Where: Stephansplatz 3, 1010
Right at the heart of old town Vienna, with steeples reaching to the sky, is the impressive sight that is the St. Stephan's cathedral (known locally as Stephansdom). It's imposing presence is already dramatic from the outside and when you wander in, you'll realise how special this Gothic piece of architecture really is.
What you see today is a church built on top of a couple of other churches that fell victim to history. While we're talking about what this church is built on top of – there's a crypt that can be visited under the cathedral which is an interesting experience if you're into visiting dead emperors and empresses, or if you're just generally interested in history.
On the outside, the different coloured tiled roof is one of the most recognisable sights in the city, while inside, like all good gothic churches should, the dark, echo-y, atmosphere reminds you of your place down here on earth as a mere mortal (see how many skeletons you can spot around the place).
Best time to visit… in the evening when there are less tourists, and it's nice and quiet – unless you're lucky enough to catch a choir rehearsing in the church.
Tip… after you've visited the Stephansdom, go visit the nearby Peterskirche (St Peter's church) which is built in the opulent style of Baroque. This will give you a good dose of the contrast in architectural styles that can be found in Vienna.
Schönbrunn Palace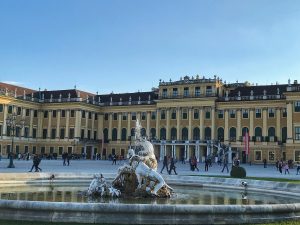 Where: Schönbrunner Schloßstraße 47, 1130
This palace was the summer hangout for those who headed up the Habsburg empire in the past. And what a magnificent palatial hangout it is. Today, it is full of tourists from morning until late afternoon, however, the palace and its gardens are spread out over a large area so you won't feel like part of the herd.
The well-manicured gardens attached to the palace (which also houses a real labyrinth) makes for a charming walk, and we highly recommend you make the hike up the hill to the glorious looking Gloriette building (you won't miss it – it's the small fancy looking place behind the palace) for one of the best views over the city.
Best time to visit… at lunchtime when most tourists retreat for lunch, or late afternoon/ early evening.
Tip – buying a ticket to tour the ornate halls of the palace is worth it if you're into the bling and stuccoed periods of history, however, you can still experience this magnificent palace only from the outside without any regrets.
Leopold Museum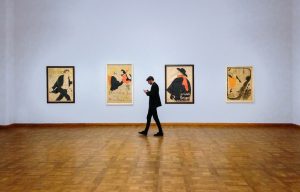 Where: Museumsplatz 1, 1070
If we are to recommend one gallery where to catch the local giants of art in Vienna, it would be the Leopold Museum. Especially If you're wanting to check out the works from the Expressionist movement's local super stars, Egon Schiele, Gustav Klimt, and Oskar Kokoschka.
This airy and bright gallery is also one of the most pleasant to walk around, and can be enjoyed fully on one relaxed afternoon.
Best time to visit… in the early evening, or at lunchtime (between 12-2pm)
Kunsthistorisches museum (Museum of art history)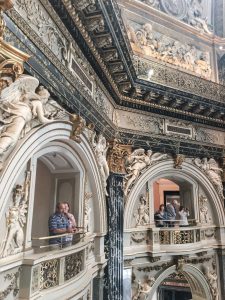 Where: Maria-Theresien-Platz, 1010
Even if you're not so much into art history, Vienna's Kunsthistorisches museum (the art history museum) is an incredible building to see. Crowned proudly with an octagonal dome, you'll find this building facing a twin-looking building along the beautiful Ringstrasse of Vienna.
You'll spend most of your time here with your jaw-dropped, even before you lay your eyes on any of the art hung on its walls. It was built and opened in 1891 by Emperor Franz Joseph I, because he needed a place to showcase all of the artwork the Habsburg family had been collecting over the years. The collection includes famous pieces like 'Summer,' by Giuseppe Arcimboldo, and some of the greatest hits from Velázquez.
Best time to visit… early evening, or at lunchtime (between 12-2pm)
Tip… stay for a coffee at the beautiful café housed in the museum.
Hundertwasserhaus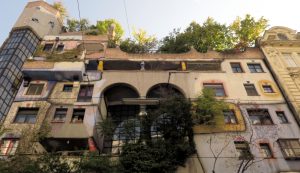 Where: on the corner of Kegelgasse and Löwengasse, 1030
To understand why the Hundertwasserhaus is a must-see, you have to get to know a little bit about the painter slash architect slash all-round creative genius, Friedensreich Hundertwasser. Hundertwasser (which translates to Hundred Waters – yes, he did change his name to this) is responsible for ideas like, 'the high-rise meadow house' and 'tree tenants' which led to some buildings around Vienna foresting their roofs. So as you probably already gathered by now, Hundertwasser was also an advocate for us humans building in harmony with nature, rather than destroying nature to build.
Hundertwasser called himself the 'architecture doctor' and inspired people to think beyond the established architectural norms' of the day. This nature-loving advocate and artist created masterpieces – on canvas and on Vienna's streets – of unruly shapes and vibrant colour. The best example of his work can be seen on the corner of Kegelgasse and Löwengasse in Vienna's Landstrasse district – the Hundertwasserhaus.
After checking this out, we'd recommend you wander over to the nearby Kunsthaus Wien which is a multi-storeyed gallery also created by Hundertwasser. You can get a glance at some of his paintings, plus the gallery's café captures everything beautiful that Mr Hundred Waters stood for.
Best time to visit… early morning, or late afternoon
Prunksaal der Österreichischen Nationalbibliothek (The State Hall of the National Library of Austria)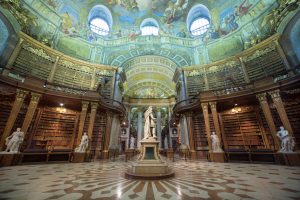 Where: Josefsplatz 1, 1010
The State Hall of the National Library of Austria is one of the most elaborate temples that workshops the humble book that we've ever seen. Ok, so there's a book containing what is said to be the oldest recorded recipe of the Apfelstrudel, but book celebrities aside, this hall of the historic and perfectly preserved hall of the national library is incredible and a lesser known must-see for any Vienna trip. You'll spend most of your time in awe, staring up at the frescoes on the ceiling.
Best time to visit… try to be the first in there at opening time – 10am
**INFO BOX**
To get a more well-rounded and deeper experience of seeing these magnificent sights of Vienna, our knowledgeable and entertaining guides can take you on a custom-made day tour in which you can catch the best of what Vienna has to offer. Ask us about our tours, here.